HomeCo Daily Needs REIT $300 Million IPO Underwritten
Home Consortium (HMC.ASX) and HMC Funds Management Limited in its capacity as responsible entity for the HomeCo Daily Needs REIT (ARSN 645 086 620) have today lodged a product disclosure statement (PDS) with the Australian Securities and Investments Commission in relation to the proposed establishment of HomeCo Daily Needs REIT and entered into an underwriting agreement in relation to an offer of new ordinary units to raise $300 million (Offer). A copy of the PDS will be provided shortly.
The Underwriting Agreement was entered into following the receipt of commitments from a range of institutional investors and firm commitments from a syndicate of Joint Lead Managers and Retail Co-Managers to the IPO.
It is proposed that HomeCo Daily Needs REIT will be established through a capital reduction of HMC and effected via a distribution in specie of ordinary units in the REIT to HMC securityholders. The proposal is conditional on the approval of HMC securityholders at the HMC Annual General Meeting on 18 November 2020.
HomeCo intends to despatch its Notice of Annual General Meeting to securityholders on Monday, 19 October 2020. The Notice will be accompanied by the PDS and an Explanatory Memorandum relating to the proposed capital reduction and capital distribution.
HomeCo Executive Chairman & CEO David Di Pilla commented, "We are extremely pleased to have entered into an underwriting agreement for the Offer. The HomeCo Daily Needs REIT investment story is built around a model portfolio of stabilised convenience and essential services assets targeting consistent growing distributions which has resonated with investors. The proposed ASX listing of the HomeCo Daily Needs REIT in late November is a major milestone for our organisation in the journey to become an Owner, Developer & Manager of assets".
HomeCo Daily Needs REIT, Independent Non-Executive Chairman, Simon Shakesheff commented, "On behalf of my fellow directors we are pleased to be joining the Board and are extremely enthusiastic around the future prospects for the HomeCo Daily Needs REIT through the ownership of stabilised convenience based assets with the aim of delivering consistent and growing distributions to our unitholders".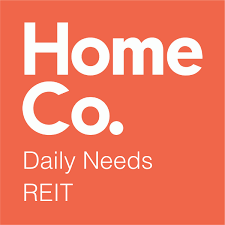 HomeCo Daily Needs REIT
Related