HDN successfully opens the HomeCo Gregory Hills Town Centre expansion
HomeCo Daily Needs REIT is pleased to announce the successful opening of the HomeCo Gregory Hills Town Centre expansion on Saturday December 4. The Centre welcomed a number of new tenants including an Aldi supermarket, The Reject Shop and 4 daily needs retailers.
The development represented an ~$11 million investment in the local community and resulted in the creation of over 130 construction jobs in addition to 150 retail and food services roles. Construction commenced in June this year and, despite the impacts of COVID associated restrictions and shutdowns the HomeCo team, in partnership with Mainbrace, still managed to hit the original targeted opening date.
The expansion has been integrated into the existing Centre which comprises of Woolworths's supermarket and 27 specialty stores. It will provide the local community greater access to a range of daily needs retailers with improved amenity, whilst maintaining a design that complements the environment.
Sid Sharma, Group COO said "Within 12 months of ownership and after 6 months of construction we were able to deliver the project amidst the disruption caused by lockdown restrictions on construction. The new precinct further provides the community access to a greater range of daily needs retailers, and the community has responded positively as shown with the Centre daily foot traffic doubling over the opening weekend. The speed and quality of execution of the project continues to demonstrate our team's capability in making strategic acquisitions with value-add opportunities. We have now leased and developed over 500,000m2 of GLA in the last 3-4 years as a group."
HomeCo Daily Needs REIT is due to complete its merger with Aventus in February 2022 and will create Australia's Leading Daily Needs REIT. With over $450m of medium-term development identified, the REIT continues to deliver more retail and last mile logistic solutions to its tenants.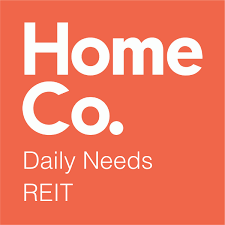 HomeCo Daily Needs REIT
Related